The surging costs and demand for real estate in Mumbai and Pune have prompted investors to look for more economical and higher-yielding investment opportunities. Because the real estate markets in Mumbai and Pune have reached saturation, investors are more likely to invest in properties in Nashik, a rapidly growing real estate market in Maharashtra.
The development of an eye-catching and peaceful destination like Nashik is definitely posing a challenge to the realty market of metro cities. The city's residential market has grown drastically in the last decade making it ideal for investment in newly launched properties.
Nashik has developed into an attractive real estate location because of improved infrastructure, connectivity, and government projects. The city's connectivity with all nearby towns makes it a genuine deal in terms of investment. Nashik, located in western Maharashtra, is sandwiched by Mumbai and Pune making it easily accessible for both cities.
Nashik has been a gateway for several migrants since the Mumbai-Nashik highway and airport have been upgraded. This, however, has not affected the city's beauty and peacefulness.
The city's geo-strategic location is what makes it a genuine deal in terms of investment. Nashik, located in western Maharashtra, is bordered by Mumbai and Pune, forming a triangle corridor.
The developing Wine Capital of India, Nashik, is proving to be a worthy competition to several megacities due to these top 5 reasons:
Rapid Industrialization & Development
Nashik is the third most industrialized city in Maharashtra, after Mumbai and Pune. As a result, infrastructure development is booming here, whether it's hospitals and shopping malls or hotels and educational institutions.
Nashik is a developing center in Maharashtra. Several major industrial companies are present in Nashik, including Mahindra, Siemens, Glaxo, ABB, Mico Bosch, Crompton Greaves, and many others. With so many industrial parks, Nashik has plenty of job prospects coming ahead, so keep an eye out!
While the government has undertaken some of the greatest infrastructure projects, certain localities add to the charm of the city, making them desirable for investment. Gangapur Road is at the top of the list, due to its well-connected roadways and numerous amenities in the area.
Goodbrick Realty's luxury apartment Vistara, which offers 3 BHK flats in Gangapur Road Nashik, is an iconic property in this locality. The project is located in the heart of the city and has top-notch roof-top amenities. Vistara ensures an elevated lifestyle in one of Nashik's most renowned locations.
Too much stress and hectic routine might affect one's quality of life. Nashik's pollution levels are far lower than those of big cities such as Mumbai; there is still plenty of greenery, breathtaking locations, open space, broad roads, and serenity.
Even though it is hot in Nashik during the summer, the weather is pleasant the rest of the year. Also, Nashik produces an abundance of onions, tomatoes, pomegranates, flowers, and, of course, grapes, making it India's wine capital with Sula and York's vineyards located here!
Reputed Educational Institutions
For individuals with small kids, Nashik is home to a number of prestigious international educational schools for quality education.
There are also a number of well-known colleges, including K.K. Wagh Engineering, B.Y.K College for Commerce, KTHM, Yashwantrao Chavan Open University, Sandip Foundation, and M.E.T Knowledge City.
The Mumbai-Nashik six-lane highway features good toll roads and great connectivity between Mumbai and Nashik.
In fact, Thane, which is 140 kilometers away from Nashik, can be reached in just about two hours! Nashik which is 210 kilometers from Pune, has excellent connectivity with the latter too.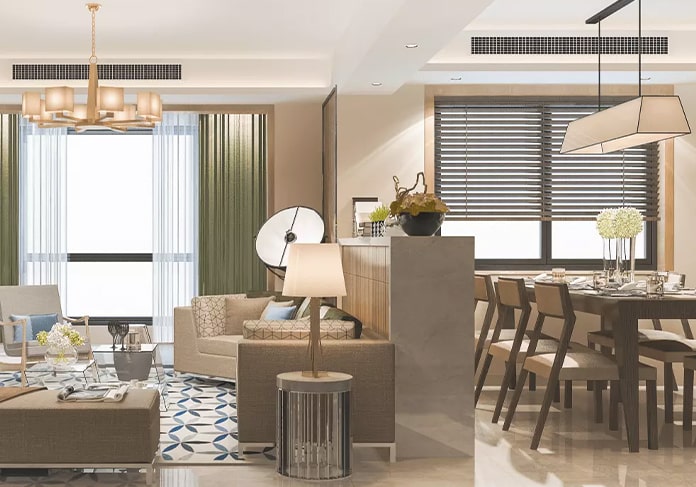 The Spacious 3 BHK Flat In Nashik Gangapur Road By Goodbrick Realty
Goodbrick Realty presents Vistara at Serene Meadows, Gangapur Road, Nashik. The gated luxury life space offers spacious and gorgeous ready-to-move 3 BHK flats for 14 privileged families. The thoughtful floor plans with just 2 flats per floor offer a seamless layout with a sense of privacy.
The best-in-class roof-top amenities like Children's play arena, Yoga lawn, Meditation zone, Multipurpose court, Midnight zone, Zumba and aerobics plunge, Senior citizens' corner, party deck, and many more give a signature lifestyle for you and your family.
The 3 BHK flats in Nashik Gangapur Road at Vistara are conveniently located with all basic facilities in close proximity like schools, colleges, medical care, supermarkets, etc. Vistara is definitely a blend of sophisticated lifestyle, convenient location, and modern amenities.
Conclusion
Whether you are planning to buy your first home or are searching for the perfect house to retire to, Nashik is an ideal city to invest in real estate. Nashik is a great location for investors due to its clean and green environment.
The cultural and historical value, road connectivity, pleasant weather, and other factors make Nashik the best choice for investment in real estate. Explore Vistara by Goodbrick Realty which offers ready-to-move 3 BHK flats in Nashik at the most popular location – Serene Meadows, Gangapur Road.