Do you want to add a touch of elegance and sophistication to your luxury villa? One of the easiest ways to do so is by choosing the right type of curtains.
But with so many options available, it can be overwhelming to select the perfect one. That's why we've created this guide to buying curtains for luxury villa in Khandala. In this blog series, we'll provide you with all the essential information you need to make the right decision.
From choosing the right fabric to measuring and installing, we've got you covered. So, whether you're redecorating your villa or starting from scratch, read on for Part 1 of the best guide to buying the right type of curtains for luxury villas!
A Comprehensive Curtain Buying Guide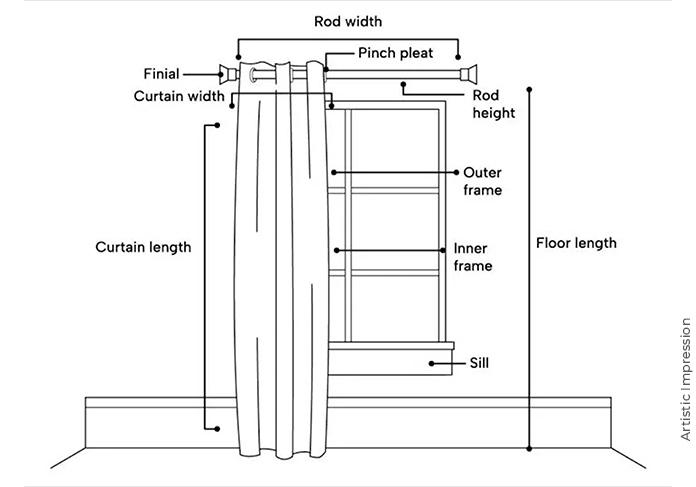 When it comes to selecting curtains for your villa in Khandala, you have a variety of options to choose from. But, in my experience, the right type of curtains can enhance the overall aesthetic and ambience of your villa for sale in Lonavala and make it feel like a luxurious retreat. This comprehensive blog will include sections like:
Choosing the Ideal Curtains for Villa-Specific Rooms
Choosing Appropriate Curtains for Specific Types of Windows
Additional Points to Bear in Mind
Style of Attachment
Let's walk through these sections now to understand them in detail…
Choose The Ideal Curtains For Villa-Specific Rooms
I believe that while curtains are primarily used to block light and offer privacy, they also serve other purposes, such as adding aesthetic value to specific rooms like the bedroom, living room, bathroom, and kitchen, as well as providing better insulation.
Depending on the room's requirements, curtains can be both functional and decorative, like using a translucent lace curtain for a decorative touch, or a blackout curtain to prevent incoming light.
Best Living Room Curtains
When choosing from different types of curtains for your living room, it's essential to prioritise function over form.
Speaking as someone who has implied this, one type of curtain that can enhance a living room's functionality is living room drapes.
They effectively regulate the amount of light coming in and provide privacy. Your choice of curtain will depend on several factors, such as:
If privacy is your main concern, then in my opinion, choose a living room curtain that covers the entire window to prevent outsiders from peeping inside.
If light control is your priority, then consider the type of Sheer fabrics that allow ample natural light to come in while blocking harsh direct sunlight. Medium-weight fabrics let in less natural light.
To completely block natural light from entering the living room of your villa in Khandala, opt for heavier fabrics paired with a lining designed to prevent sunlight from penetrating.
If you are looking to buy curtains for your luxury villa, it's essential to consider the style and design that best suits your taste and the interior of your villa for sale in Lonavala to achieve a seamless and cohesive look.
Best Bedroom Window Curtains
Bedroom curtains are a crucial element as they offer both warmth and soundproofing.
Voiles are a great option for bedroom curtains because they provide privacy without obstructing natural light.
They are lightweight and don't hinder the quality of light. While voiles limit the view from outside, they allow plenty of natural light to enter the bedroom, creating a bright and airy atmosphere.
For those who want more privacy and control over lighting, voiles can be paired with blackout roller blinds to achieve both.
Best Kitchen Curtains
I can personally attest that selecting a personalised kitchen curtain can help create a cohesive look that reflects your lifestyle through colour, style, and texture. However, it's essential to prioritise functionality when choosing a kitchen curtain.
Shade curtains are the right type of curtains as they are made from hard materials like lace fabrics and polyethylene, and they offer good insulation against heat and cold. These curtains consist of panels that can be easily raised or lowered using a cord.
Alternatively, café curtains are another ideal choice. They are designed with pleats at the top and are typically hung from rings, with rods halfway through the window to cover the lower part. This style allows natural light to enter the room while maintaining privacy.
Best Bathroom Curtains
In addition to serving a functional purpose, I believe, a bathroom curtain can enhance the decor and add visual interest to the space.
To complement a shower curtain, consider adding bright or patterned polished cotton curtains.
Shutters are an excellent choice for bathroom curtains as they provide a traditional and streamlined appearance.
They are also more durable than wood and won't warp or crack.
Shutters offer a luxurious touch to the bathroom and provide complete coverage.
If you prefer natural light in your bathroom, shutters are the best option. They allow light to flow in while ensuring superior privacy that fabric curtains cannot provide.
Choose Appropriate Curtains For Specific Types of Windows
Each window type requires a unique style of curtain to suit its specific characteristics. For instance, you may need to select a particular type of curtain for a specific window type in your room.
Now let me walk you through different types of windows that require specific types of curtains:
Dormer Type Of Windows
For large dormer windows, ceiling-mounted tacks can provide a creative and practical solution for hanging curtains.
On the other hand, small dormer windows require curtains with a slot heading attached to dormer rods.
Dormer rod curtains open and close in a swing motion instead of being drawn, leaving the back of the curtain exposed during the day.
To ensure an attractive appearance from all angles, it is crucial to make sure the back of the curtain is as well-designed as the front.
Picture Type Of Windows
Picture windows allow plenty of natural light into living rooms and offer an unobstructed view of the surroundings.
To achieve a theatre-style effect, valance curtains can be used. If you prefer to control the amount of light entering the room, sheer curtains are an ideal choice. Alternatively, you can opt for a heavy curtain to block out the light completely.
Bay Type Of Windows
Speaking as someone who has been through this, bay windows present unique challenges when it comes to finding the right fixtures to hold curtains. However, using hangers, a rod designed for angling, and three window setups can help solve this problem.
By doing so, any three curtain sets can be used to fit bay windows. Sheer curtains are a great option to hang over bay windows, while an opaque curtain can be used across the small alcove to allow enough lighting to enter the room.
This setup provides a balance between natural light and privacy in the room.
Additional Points to Bear in Mind
In my view, as you finalise the appearance of your window treatments, there are several other aspects to consider. It is crucial to think about the method of hanging your curtains, the type of rod that will be used, and whether any supplementary accessories are necessary to achieve your desired aesthetic.
Hanging Your Curtains
Hanging curtains may not be a complex task, but it can become confusing if you lack the necessary expertise. After selecting your curtains and the required hardware, the location where you hang your curtains is a crucial factor to consider.
Although it might seem obvious, many people hang their curtains incorrectly. The most common placement for curtains is known as "trim height", which refers to the height of the top of your window. However, if you desire a more striking appearance, you may choose to hang your curtains at ceiling height, just below the ceiling of a room.
This style creates a dramatic floor-to-ceiling effect for your window treatments and can elongate the look of your windows. This approach is usually used for windows that are almost at ceiling height.
Tiebacks
I think that by incorporating tiebacks, you can enhance the appearance of your curtains. Without tiebacks, you have the option of keeping the curtains either fully opened or closed. However, by utilising tiebacks, you can draw the curtains to one side, creating a distinct, partially open look.
Tiebacks are a favourite addition to any curtain style, particularly classic designs. In certain cases, tiebacks may be included in the purchase of your curtains.
Curtain Rods & Hardware
To personalise your window treatment, consider the curtain rod you choose. The importance of the curtain rod will depend on the type of curtain you select. For instance, if you choose a rod pocket or hidden tab curtain, the curtain rod won't be visible after the curtains are hung. However, if you choose eyelet, grommet, or tab top curtains, the curtain rod will be partially exposed.
Curtain rods come in various lengths and thicknesses and are usually made of metal or wood. You can easily find a finish that matches your desired style. Some curtain rods include decorative finials at the ends, which serve both a decorative purpose and prevent the curtains from sliding off the rod. While some curtains come with a rod included, usually they are purchased separately.
Style of Attachment
In my humble opinion, it's also worth considering the style of attaching the curtain to the rod. Depending on your desired style, certain attachment styles may be more suitable for your needs. This could be particularly significant if you decide not to include a valance with your curtains.
Hidden Tab Curtains Style
Hidden tab curtains are a hybrid of tab curtains and rod pocket curtains. The loops used to hang the curtains are concealed behind an extra piece of fabric, usually adorned with decorative elements. The top fabric of these curtains is usually pinch-pleated to enhance their style. You can use hidden tab curtains with or without a valance. They are prevalent in traditional, country, or contemporary styles.
Tab Top Style
Tab top curtains have loops of fabric sewn into their top. The loops are where the curtain rod is inserted to hang the curtains. Sometimes, these curtains come with decorative buttons. Tab top curtains are commonly used in casual styles and also in contemporary country styles.
Grommet & Eyelet Curtains Style
Grommet and eyelet curtains feature reinforced large eyelets at the top of the fabric, commonly used in contemporary or modern styles. These curtains provide an additional touch of style in place of a valance.
Rod Pocket Curtains Style
Curtains with rod pockets have a sewn-in pocket at the top. To hang these curtains, you simply thread the curtain rod through the pocket. These curtains are commonly used with a valance but can also create a casual look without one.
Fabrics such as cotton or linen are best suited for this style of curtain, and decorative enhancements like embroidery or ruching may be included in the pocket.
Frequently Asked Questions (FAQs)
Can you steam-clean curtains?
Not all curtains can be effectively cleaned using steam, as certain types of steamers may cause damage to the fabric. It is recommended to refer to the product labels and follow the manufacturer's guidelines to determine the best cleaning method. The use of steam can help remove creases and wrinkles from hanging curtains and draperies.
Can you wash curtains in a washing machine?
It is possible to clean curtains by washing them in a washing machine, but it is important to carefully read the label and adjust the washing machine settings accordingly. To ensure that the appropriate cleaning method is used, it is recommended to review the curtain label thoroughly. Typically, using the "delicate" cycle, cool water, and slow spin settings are suitable for light cleaning, although it is advisable to avoid using a dryer.
How many curtain pieces will there be for a window?
The customary practice is to use two separate curtains for windows wider than 2 feet, whereas windows less than 2 feet wide usually require only a single curtain. If a window requires three panels, one panel can be split into two and attached to each of the other two panels to create two separate curtains. If you prefer individual panels that are not sewn together, please make sure to inform the designer.
How should curtains be measured?
These guidelines are provided as a starting point and can be adjusted to suit your desired aesthetic. To determine the appropriate curtain size, measure the width of the window and add 5 inches on each side. If the window is situated in the middle of the wall, measure the height and add 4 inches above the window and 5 inches below the window.
For full-length windows or doors, measure the height from 4 inches above the window to 1 inch above the ground. When taking measurements, use a metal measuring tape rather than a cloth measuring tape.
When determining the amount of fabric needed for curtains, it is important to calculate the requirement in metres rather than square feet. This takes into account the fabric used for pleats, the vertical repeat size of the design, stitching allowances, and the tie-belt needed to secure the curtains. The total amount of fabric required can vary depending on the specific design.
Size of the Eyelet Ring and Hook
The typical inside diameter of an eyelet ring is 3.5 cm.
The typical inside diameter of a plastic curtain hook ring is 3.2 cm.
If you purchase the rod separately from the market, it is important to ensure that the rod's diameter is standard (1 inch) and compatible with the ring diameters. The ring and rod diameters should match to avoid any discrepancies.
How long does it take to make curtains?
When you go for custom-made curtains, it includes selecting fabrics, stitching, finishing, and delivering the final product. The lead time for this process can range from 1 to 2 weeks, depending on factors such as fabric availability and design complexity. You should allow the designer sufficient time to create a high-quality product that meets your expectations.
Should the curtains touch the floor?
For practical purposes, curtains should be hung to allow for about 1/2 inch clearance from the floor, making it easier to clean and mop the floors beneath them. However, the final length of the curtains depends on the desired aesthetic look and the pre-measured length of the curtains.
As a general rule of thumb, a four-inch length is considered ideal, although in some cases, a 3/8-inch length may be preferred. Ultimately, the installer's preference will dictate the ideal length.
If a romantic and traditional "puddling" look is desired, curtains should be hung to touch the floor, with a recommended length of six inches. However, keep in mind that this style will require constant upkeep as the curtains will accumulate dust from touching the floor. Frequent rearrangement will be necessary, particularly after sweeping or vacuming the floor.
Do curtains come with a house when it is sold?
When a house is sold, the attached components are typically considered part of the real estate that is being transferred. Since curtains are not considered to be fixed components, they are not typically included in the sale.